How long have you been with AIS?
I started with AIS in March of 2018 after 27 years in the insurance industry, where I previously held positions including customer service specialist, sales specialist, claims specialist and manager of several insurance offices.
What do you like most about what you do?
I love helping people. I am an educator and a problem solver. Those skills, combined with compassion, allow me to build relationships customers in order to meet their insurance needs. This is what has given me joy over the course of my career.
Why did you decide to come work for AIS? What keeps you here?
I wanted to work directly for a large company for years. AIS is an excellent company who treats their employees better than most other companies. Their training and resources are the best I have ever seen in any company that I have ever represented.
What is your goal as an Insurance Specialist?
My goal as an agent is to always help people find the best coverage and rate possible, while adding to the number of satisfied customers who are happy with my service. It's also my goal to have a successful and lucrative career.
What tips do you share with your customers?
I let my customers know that it's best to combine vehicles under the same policy for a multi-car discount and/or combine their Home or Renters policy under the same company for a multi-line discount. I educate them on all their coverages and allow them to make a well-informed decision. Most people choose better coverage, when financially possible, once they understand how they may be affected at the time of an accident.
What is the most money you've helped a customer save as an Insurance Specialist?
One of my customers was an elderly couple in desperate need of saving money. I took my time to review their policy, one they had for 25 years. By switching them to another subsidiary of the same company and making several changes, I was able to save them $1500 a year.
How can you be contacted?
Give me a call at (866) 520-7335 ext. 78235 for a free personalized quote. Or complete the form below and I'll contact you. It would be my pleasure to help you figure out which of our insurance partners can save you the most money and offer you the best coverage.

Best,
Alaina Spadaro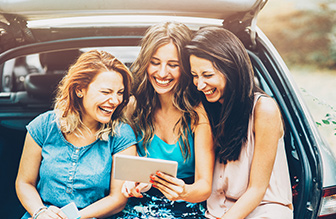 AIS Referral Rewards
Earn Referral Rewards for helping friends and family save on insurance. We'll send you a $25 e-gift card for each Referral. It's easy and the rewards are fun!
We offer gift cards from:
Amazon • Apple Music • Best Buy • Starbucks • More