How long have you been with AIS?
I have been with AIS since 2002.
What do you like most about what you do?
I like to hear when people are happy with their service and that I have helped them save money on their insurance.
Why did you decide to come work for AIS? What keeps you here?
I decided to work at AIS because they care about giving their clients the excellent service that they deserve. They also take care of their employees' needs.
What is your goal as an Insurance Specialist?
My goal is to give such excellent service that my customers are happy to refer their friends and family to me.
What are your customers saying about you?
"Carol was so helpful in understanding my needs and went beyond to satisfy what I was looking for! My only regret is not having called earlier. I'll be saving over $800 a year now with my new policy. Thanks AIS for making this possible." - Miguel S.
How can you be contacted?
Give me a call at (866) 520-7335 ext. 70012 for a free personalized quote. Or complete the form below and I'll contact you. It would be my pleasure to help you figure out which of our insurance partners can save you the most money and offer you the best coverage.
Do you have a social media account I can follow?
Yes! You can follow my Facebook Business Page here. On my page, you will find helpful insurance tips, relevant industry news, and any other information that may be useful to you. Follow my page and be sure to tell your friends and family!

Best,
Carolina Deaver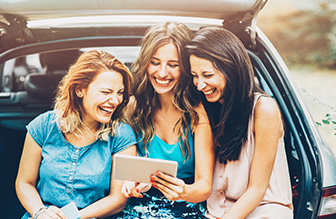 AIS Referral Rewards
Earn Referral Rewards for helping friends and family save on insurance. We'll send you a $25 e-gift card for each Referral. It's easy and the rewards are fun!
We offer gift cards from:
Amazon • Apple Music • Best Buy • Starbucks • More