What do you like most about what you do?
I take pride in providing authentic and genuine customer service. With many different situations, it is my goal and purpose to make each and every person I connect with feel cared about and secure with their coverage.
What is your goal as an Insurance Specialist?
My goal is to educate my clients and find them the most affordable, excellent protection. I also strive to make all my clients feel valued and understood.
What tips do you share with your customers?
Ask questions. Never hang up the phone if you're still confused. We are licensed agents and are trained to educate you and make you feel comfortable with the coverage you purchase.
What is the most money you've helped a customer save as an Insurance Specialist?
I was able to save a couple over $300 a month when I switched their Auto policy to the Preferred Good Driver Program with Mercury and AIS.
What are your customers saying about you?
"The lady who gave me the quote I requested was a superstar! I felt comfortable talking to her and all of my questions were answered in a courteous and informative manner. I believe that good customer service is worth far more than it's given credit for. It is the backbone of any business and I was not let down. Thank you so much for your help." - Bernadette G.
How can you be contacted?
Give me a call at (866) 520-7335 ext. 78236 for a free personalized quote. Or complete the form below and I'll contact you. It would be my pleasure to help you figure out which of our insurance partners can save you the most money and offer you the best coverage.
Do you have a social media account I can follow?
Yes! You can follow my Facebook Business Page here. On my page, you will find helpful insurance tips, relevant industry news, and any other information that may be useful to you. Follow my page and be sure to tell your friends and family!

Best,
Michelle Hucko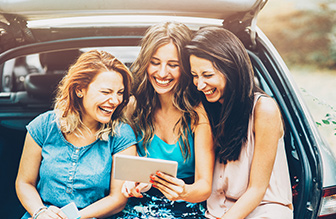 AIS Referral Rewards
Earn Referral Rewards for helping friends and family save on insurance. We'll send you a $25 e-gift card for each Referral. It's easy and the rewards are fun!
We offer gift cards from:
Amazon • Apple Music • Best Buy • Starbucks • More